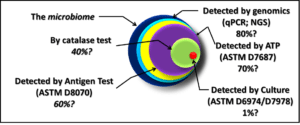 Since November, this series has progressed through fuel system sampling, sample handling and non-microbiological tests used to detect biodeterioration. This post, and the three to follow, will cover microbiological testing.
Let's take another look at the figure (fig 1) that accompanied Part 3 (December 2016):
Fig 1. Ability of different microbiological test method to detect all microbes present in a microbiome.
The largest circle represents the total microbiome – all the microbes…
READ MORE